Just finished reading
It's Elemental, My Dear Snape
, an utterly brilliant SS/HG fic by
cathedral carver
. Perfection in five chapters. It's basically a list of the things I most love about this ship and the plot developments I most want to see all fused together and creating this one divine fic. At about 25, 000 words, it's over too soon- I'm greedy, I wish it was an epic!- but its sheer excellence keeps me from complaining. I just feel so giddy and breathless and squeeful! It's beautifully written, the prose is sparse but conveys so
much
all the same, and Snape and Hermione are just perfectly in character, and there is this tenuous bond and growing affection and then angst and heartbreak and- GUH. *heart explodes* An absolutely
gorgeous
ending.
God
, it makes me so happy!
---
*

He awoke to the sound of her voice. She was talking quietly, murmuring, but not to him. She sounded as if she was reading, or chanting.

"What are you doing?" he said into a darkness that didn't seem nearly as frightening as before.

She immediately moved closer. Hands on his face, his neck, shoulders. He tried to lift an arm, to find her hand with his but she pushed it back gently.

"Please lie still. You need to lie still, Professor—" She stopped short and he heard the catch in her throat, the panic in her voice.

Professor?

"Who are you?" he said quietly.

"I'm…trying to help. That's all. Please. Please."

That voice. He knew that voice. He knew it. But if he was right, how…how could it be?

"Miss Granger?" he said tentatively, testing the name on his tongue, even though he knew the answer.

There was a long pause and he knew. He knew.

"Yes."

"Ah."

Angel. He'd called Hermione Granger an angel. And she'd let him. He was suddenly very, very glad he couldn't see her face, or anything else for that matter.

There was a very long silence during which he tried, and failed, to picture the expression on her face at that moment.

"Professor?" she sounded worried.

"Why are you here?" he said finally.

"Because…I just am," she said simply and he let it go because it was a fact and he needed her and there appeared to be no one else around, and what else could he do?

Then the fire roared again and nothing would quench the flames.

And so he burned.

*

"You need to drink this, professor," she said. He felt a vial press against his lips.

"What is it?"

"It will help."

"What is it?" he demanded.

"An…experiment."

"If you think I'm going to consume some concoction thrown together by a mediocre potions student—" His voice caught in his throat and he started coughing. Pain flared.

"I'm…I'm doing the best I can—"

"It's not good enough, clearly," he hissed when the pain subsided and it felt good, it felt right to talk like that again. He was back in his classroom, he was teaching third-year potions, and the students trembled before him. It was before any of the other things had happened, before—

"Professor…please." He heard the tremour in her voice, heard the plea, felt her fear, her fear for him, not of him, and he trembled before it.

He drank.

He slept.

*

---
Speaking of happy-making things, I think I've babbled enough before about cleolinda's epic
Twilight
recaps, y/y? I always wished there was an equivalent for
Harry Potter
, more specifically, for the epic fail of
Deathly Hallows
. And what do you know, I just discovered it! Daniel Hemmens wrote a really funny and insightful critique of the series:
part 1
,
part 2
,
part 3
and
part 4
. Lots of intelligent analysis and giggle-inducing irritation at ridiculous things I hadn't even noticed before. [I was too busy being traumatized to pay such close attention]
Anyway, chapter one is called The Dark Lord Ascending although it should more properly be called "The Dark Lord Sitting In A Dining Room And Being A Bit Mean To The Malfoys But Basically Doing Nothing."

Fans of the series will of course be intimately familiar with scenes of Voldemort Doing Nothing. He's been at it for three books now. This chapter is particularly full of fine examples of the Dark Lord's sinister aptitude for inactivity.
In addition, because my life is always super amazing before everything goes to pieces, I found the
Deathly Hallows Sporking Community
. Win! Why on earth did I not search for this earlier?!
-
Then Harry brilliantly blurts:
"Is this it? Is this Sirius's bike?"

*headdesk*

"The very same," said Hagrid, beaming down at Harry. "An' the last time yeh was on it, Harry, I could fit yeh in one hand!"

*headdesk*
If it wasn't safe to talk in the garden when you landed, it's not safe to give away who the real Harry is now. But does anyone notice this bit of stupidity and perhaps have all the Harrys mix together to confuse things? No.

"Hold tight now, Ron," said Tonks…

*headdesk*

"Good luck, everyone," shouted Moody. "See you all in about an hour at the Burrow."

Oh my GOD! That's it; the Order of the Phoenix is officially the worst secret organization. Ever.

x:x:x:x:x:x:x:x:x

And then, out of nowhere, out of nothing, they were surrounded. At least thirty hooded figures, suspended in midair, formed a vast circle in the midst of which the Order members had risen, oblivious –

A better description of the Order members, I have never heard. Did they forget to look up?

x:x:x:x:x:x:x:x:x

He could not understand where Voldemort had gone and expected him to swoop out of the darkness at any moment. Something hot and wet was trickling down his chin and from his forehead.

Yanno, JKR simply can't write an aftermath scene to save her life, she seems to miss the whole point of it. And if those two sentences are supposed to be related... then, ewww.

x:x:x:x:x:x:x:x:x

"Your wand's here, son," said Ted, tapping it on Harry's arm.

And Harry's arm turned into a white rabbit.

Now – taking the wand legend stuff at the end (which still has me confused) does that now mean that Ted is the rightful owner of the Wand of Destiny?

x:x:x:x:x:x:x:x:x

...they Portkey to the Burrow. Mrs Weasley asks if he's the real one.

"Yes, I'm Harry."

Sheesh how stupid are these people - is he going to say "mwahahahahahaha!!!! No, I'm not!"? But I'd have laughed if Harry had said "No." and had been stunned, at least.

Thank goodness you're all right," she said, pulling him into a hug

BUT IS HE HARRY? I can't tell you how much I was screaming at the book at this point. He turns to Ginny who also doesn't care if her ex is a Death Eater. She simply lists everyone who was in on the plot, as she also doesn't care about security. *headdesk *

-
I just about died laughing. I can almost forgive JKR for that immense suckitude just for the giggles I'm getting out of the sporkage now. *ponders* Actually, no, I still want to slap her for failing so hard. But I might be able to avoid kicking her while she's down.
Might.
I mean, the woman has literally given me nightmares. I dreamt my parents were making me go camping for a few weeks. :O *iz aghast* Damn her and that Camping Trip from Hell, I swear, I was nearly sobbing when I woke up. 'But I can't leave civilization! Electricity! What about tv, what about my
laptop
? The INTERNET?
How will I survive?!'
---
I've made the obvious Castle/Mentalist comparison before- straightlaced, tough-talking female cops teaming with roguishly charming and often infuriating, meddling civilian consultants. But when I watched Castle 2x13, I noticed a different similarity:

The search for who murdered their loved ones:
In Mentalist, the mythology eps are based on Jane's hunt for vengeance against Red John- the theme is a little more blatantly explored in the series, even in RJ!less eps, through Jane questioning killers to see if getting revenge made any difference to them at all. Quite clever, because it shows us that RJ is never far from his thoughts, even in cases with no relation to him at all. Just off the top of my head, we have Jane discussing the topic of murder in the name of revenge in Flame Red-
Jane: We never discussed this because I thought it went without saying, but when I catch Red John, I'm gonna cut him open and watch him die slowly like he did with my wife and child. Now if you have a problem with that, we should talk.
Lisbon: Then let's talk. Because when we catch Red John, we are going to take him into custody and he's going to be tried in a court of law.
Jane: Not if I'm still breathing.
Lisbon: If you try and do violence to him, I will try and stop you. If you succeed in doing violence to him, I will arrest you.


Jane: I confess, I never did get to the end of [Moby Dick]. Ahab does die, doesn't he?
Tommy: Yes. But so does the whale.
Jane: That's my point, reveng doesn't come cheap.
Tommy: Oh, spare me your moralizing. I know what revenge costs, it's worth the price...those animals deserved what they got, it was justice.

…and Scarlett Fever-
Jane: Does it feel better?
Heather: [crying] It doesn't change a thing.


It's just a little chilling, because you know Jane is asking for personal reasons- he's picturing killing Red John in his head, and he's using the criminals they catch to try and anticipate what he'll feel like, what he'll go through afterwards.

In Castle, Beckett's mom's murder wasn't made known to us from the start. We knew she had some undefined tragedy in her past, but her damage wasn't shown at the beginning, like Jane, which is why I didn't really make the connection til now. [Shh, I'm kinda slow that way]
I think the show's starting to go the Mentalist route of creating an ever-expanding conspiracy that encompasses many characters in its web [much like Life]. Before, most of the episodes were self-contained, but now it's getting an arc of its own with seeds of a larger sub-plot sown into a few different eps.
Jane kills the sheriff to save Lisbon.
Beckett kills the assassin to save Castle.
The way that Jane finds people linked to Red John only to have them die on him...




...is reminiscent of this ep where she finds her mother's killer, only to have him die on her before she can find out who hired him.
The 'oh crap, I was responsible for screwing up my partner's chance at resolving the tragedy that's been haunting them for years' expression.




'Now I am to blame for their wrenching, soul-deep pain.' *woobie!face*

Aftermath:
Instead of weird metaphors involving solitude and oranges [I still don't get the symbolism there- sadly, my theory that the titles in the second season would be based on the color orange didn't eventuate]...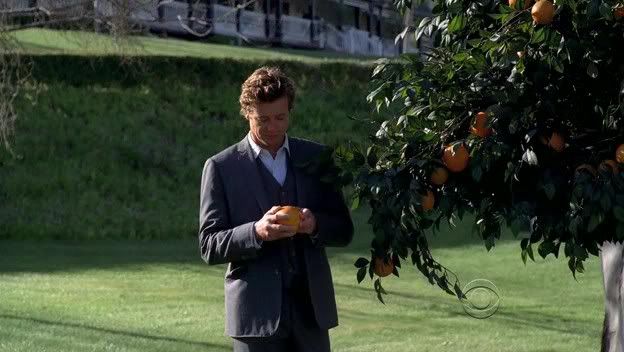 ...we have Beckett and Castle eating Thai. Accompanied by squeeworthy shippy dialogue! Aww!
Castle: I overstepped. I came down here to say that I'm sorry- and that I'm through. I can't shadow you anymore. If it wasn't for me-
Beckett: If it wasn't for you, I would have never found my mom's killer. And someday soon, I'm going to find the sons of bitches who had [Koonan?] kill her.




Beckett: [looking all soft and dreamy] And I'd like you around when I do. And if you tell anyone what I'm about to say, there's going to be another shooting, but- I've gotten used to you pulling my pigtails. I have a hard job, Castle, and having you around makes it…a little more fun.

*dies of shipper glee* This is the most open and emotionally intimate they've been! I mean, usually she plays the resigned, long-suffering detective card to hide the fact that she truly enjoys his company, and now she's laying her cards on the table? AWESOME.




*flails* There better be a whole lot of animated icons of this scene! <33333




[Hee. Why that makes me think of Lady and the Tramp, I don't know]


---

Meme:

30 Day meme: snurched from labrt2004
Day 05 → Your favourite quote.

In general? Um...I admit, I fail at memorizing pithy quotes that I can trot out when appropriate, I so wish I was that kind of person. *sighs* Hmm, I think I'll go with Emily's quote from Minimal Loss, 'Reason is not automatic. Those who ignore it cannot be conquered by it...'

Oh, and Rossi's from Masterpiece: 'Let us consider that we are all insane. It will explain us to each other, it will unriddle many riddles...'

Plus, Hotch's from House on Fire: 'I have loved to the point of madness; that which is called madness, that which to me is the only sensible way to love...'

I really admire whoever it is on the CM staff that unearths these gems for each ep. ^_^

Who is your Harry Potter Mate

Your Result: Severus Snape

You like your mate with a dry wit and a sharp tounge. You do not mind the emotional baggage that comes with him. You may have to drag him kicking and screaming from the potion lab, but once his love is given, it will never waiver.

Lord Voldemort
Ronald Weasley
Remus Lupin
Harry Potter
Albus Dumbledore
Lucius Malfoy
Draco Malfoy
Who is your Harry Potter Mate
Quiz Created on GoToQuiz
OMG, Voldemort comes in second place? But I think I'm more horrified that RON is at third. *headdesk*
---

Vidspam:
God, this clip amuses me so much. It's so random! I don't get what the plot's about, I don't think there IS any real story behind it except 'let Alan Rickman stroke and caress my body and make millions of fangirls explode with jealousy'. Lol. It's actually a little creepy...no, scratch that, a
lot
creepy. *g*
Feeling:
excited